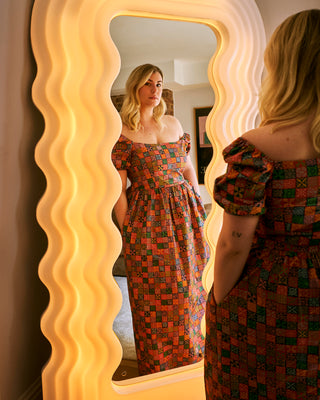 Abigail Bell was founded by me, Abigail (Abby) Campbell, in 2008 at the height of the indie sleaze era. Vintage shopping was growing in popularity thanks to people like Sophia Amoruso and Chloe Sevingy. I had always been an avid secondhand shopper, but I was living on my own for the first time and was suddenly free to shop as often as I wanted. 

It wasn't long before I had amassed a huge collection of vintage clothing, accessories, and home decor. Abigail Bell was born out of the necessity to re-home some of these pieces before I left for college, but running an online vintage business in 2008 was not easy.
The following year, I went off to school in Nashville and had to table Abigail Bell to focus on my studies. Over the next four years, I shopped for vintage and secondhand as often as I could decorating all of my dorms and apartments and dressing my friends along the way.

In 2013, I moved to New York and landed a job working for One Kings Lane, a luxury home decor business with a killer creative team. I started as a temp and eventually worked my way up to Logistics Manager in the span on 5 years. I handled all of the logistics for photo shoots, retail stores, and special project installs with celebrities like Lucy Liu and Mindy Kaling. This reignited my love of home decor and inspired me to begin collecting vintage again.

I continued until I had more than I could fit in my tiny 500 square foot apartment, and in 2017, Abigail Bell was reborn.