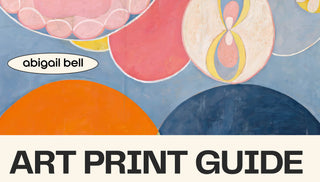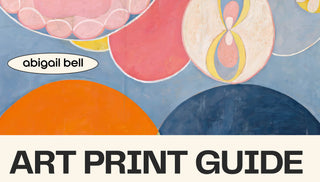 Welcome to our Art Print Guide—your compass to curating the perfect prints for your home.
We know that choosing the perfect art print can be overwhelming—do I want framed or unframed? Do I want a canvas print or a fine art print? These choices aren't meant to overwhelm, but to allow you to customize your collection to fit seamless into your home and your design style.
If you have a modern gallery wall with all black frames, our framed fine art prints in black will fit in nicely to your existing collection.
Maybe you love collecting vintage frames from antique stores and flea markets. The unframed canvas and fine art prints are going to be for you. Pro tip: chat us in the bottom right corner for custom sizes not listed. We love a good vintage frame too (even though they are sometimes odd sizes) and can create something that will be the perfect fit for you.
If you want the most elevated and low touch option, our (ready to hang!) framed stretched canvas prints are going to help you achieve the look and feel of the original paintings without having to organize an Oceans 11-style art heist.
Scroll through our guide to get a feel for our sizes, print materials, and framing options and then start building a collection that resonates with you and your unique style.
If you have any questions or need any guidance (seriously, any at all!), we're always here to help. Click the chat bubble on the bottom right corner of the screen and get support from one of our art experts—you might even get to chat with Abigail!